Tone Muscle and Burn Fat
Try the new EMSCULPT procedure in North Conway, NH
EMSCULPT is an effective, non-invasive body sculpting solution. It is also the ONLY FDA-cleared energy device in the industry approved to burn fat and build muscle mass. Benefits of our EMSCULPT procedure include:
NO downtime for recovery
It's pain-free
EMSCULPT is a non-surgical way to define the abs, arms legs and buttocks
NCD Skin offers the EMSCULPT procedure in our North Conway, NH office. Call today to learn if this treatment is right for you.
On average, the following were achieved in clinical studies on healthy patients:

19% reduction of fat
4 cm (1.5 inches) loss in waistline circumference
16% increase in muscle mass
11% reduction in abdominal muscle separation (called diastasis recti)
5x increase in fat metabolism (apoptotic index increased from 19% to 92% after treatment)
80% patients with visible lifting effect of buttocks
96% patient satisfaction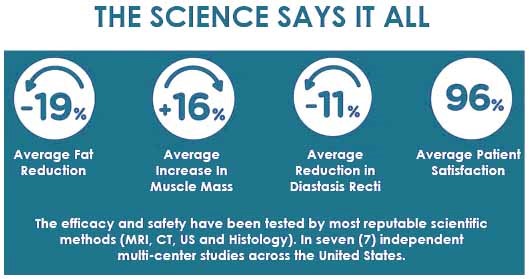 How does this body sculpting procedure work?
Are you interested in body sculpting treatments? EMSCULPT may be a good option. This non-invasive procedure:
Contracts muscles beyond what is physically possible through training and workouts
Burns fat and calories while building muscle
Delivers better muscle tone, mass and enhanced fat metabolism
Treatments consist of 20,000 supramaximal contractions in 30 min, utilizing High Intensity Focused Electro Magnetic (HIFEM) energy. Afterwards, you will feel as though you have just completed an intense workout, and there is no recovery time needed.
Call today to speak with one of our knowledgeable team members about your body sculpting options.